Arupadaiveedu - A Multimedia Ecstasy CD-ROM/VCD



A comprehensive Multimedia CD-ROM / VCD on Lord Muruga - titled Arupadaiveedu - A Multimedia Ecstasy is brought to you by Cybervalley Systems , India.

With exclusive coverage on each temple reverred to as arupadai veedu, the CD-ROM/ VCD is a must buy for all those who wish to explore the temples, legends associated, holy waters associated with the temples, various festivals and other important details which may not be available elsewhere.

This Multimedia CD-ROM is meant for all personal computers with Microsoft Windows operating systems. The Video contents in the CD are also compatible with most VCD / DVD players in the market.

The present edition of this CD is in Tamil language, but we are planning to release an english language edition, pretty soon. If you are interested in the english language edition please email to us.


To purchase this CD-ROM/VCD - Click here

What is inside this CD-ROM/VCD?


Arupadaiveedu - A Multimedia Ecstacy CD begins with a brief introduction to the six sanctified temples of Lord Muruga. It then proceeds to present a virtual devotional journey of each temple, in the order provided by Thirumurugatrupadai.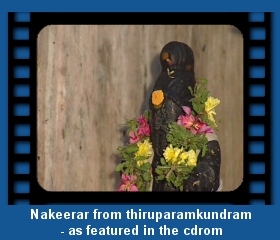 As each temple unfolds itself in front of our eyes, we come to learn :
- the spiritual significance of the place and temple
- various names of the Lord who presides there
- the temple location and accessibility
- references to the temple, in ancient indian puranas and literature
- a brief history of the temple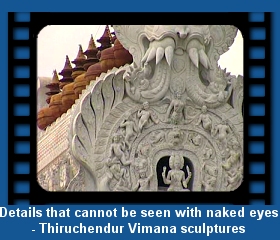 After learning these essential details, the CD takes us through each temple, covering :
- various Vimanams(temple towers) and Mandapams (pillared halls)
- different statues located along the temple and their spiritual significance
- all sub temples located within the temple premises
- approaches to the main Sanctum Sanctorium
After the temple visit, now it is time to witness some of the very special functions that take place inside the premises, on specific occations. We have painstakingly covered these festivals, in great detail :
| | |
| --- | --- |
| | Thiruparamkundram : Soora Samharam, Chariot Festival and Laksha archana (worship to Lord Muruga by hundred thousand names) |
| Thiruchendur : Swing Festival (Oonjal Sevai - where Lord Muruga swings with his consort in a highly tranquill atmosphere) | |
| | Palani : The Golden Chariot Festival (A very famous occation in which golden image of the Lord goes around the temple in Gold Plated Chariot) |
| Swamimalai : The Soora Vahana Festival (Lord Muruga is seated above the Asura Soorapadhman and is taken around the temple) | |
| | Thiruthani : Mirror Festival (Kannadi Sevai - where the Lord's Six faces are exposed through a mirror and worshipped) |
| Pazhamudhircholai : Bathing Festival (Abhishekam - where the Lord's image is bathed in several holy waters, amidst the veda chanting - Sri Rudhram and Chamakam) | |
To purchase this CD-ROM/VCD - Click here
Why we produced this CD-ROM/VCD?


Devotees all around the world would not be able to visit these holy abodes and may find it difficult to be part of the year-round festivals and ceremonies. That's why we along with our camera team have endevoured to capture and present them to you. This film is, but a small step to assist Muruga devotees everywhere to keep in touch with the Six Holy Abodes !
The glory, legend, sanctity, history, holy waters, route have been compiled in this crystal-clear visual feast. This Arupadaiveedu CD presents you visuals and darshans, which may be hard to see even if one goes in person.
We would like to submit this small flower at the gracious feet of Lord Muruga and pray for the well being of the people of the world !
Imbibe the spirit of devotion in your kids!



Many of those who migrated away from India, be it the early settlers in South Africa or the tech-savvy migrants to US - the first generation who have Lord Murugan in their hearts find it difficult to pass on this spiritual shield to their children who grow up in alien lands.
Cybervalley Systems has brought out a CD-ROM titled Arupadaiveedu - A Multimedia Ecstasy that can play on PCs and most VCD players - a multimedia title covering the six Murugan temples of Arupadaiveedu in south India.
This CD exquisitely brings to life the pujas and certain utsavams of Lord Karthikeya - To illustrate a few shots...
- the ther (Temple chariot) utsavam of Thiruparamkundram Murugan;
- the Unjal ( Swing) sevai of Tirutchendur Murugan ;
- the Abishekam of Palamuthircholai Murugan or
- the golden chariot of Palani
- are some such scenes that leave a permanent impression in one's mind.

Peace and tranquility are the possible benefits of viewing the CD contents - be it in a group during small functions or alone- in solitude in the background of darkness. For kids- it will be as much fun as watching the cartoons - if only the parents take time to explain the CD contents to their kids with some interest.

To purchase this CD ROM/VCD - Click here
Online ordering


The cost of CDROM is USD $10/= (Including postal charges - across the globe).
To order this CDROM (Tamil Edition) online via Paypal, please click the following button. If you are interested an english edition, please email to us.

Paypal is a highly secure credit-card payment system that is used by millions of users across the globe. It is the fastest and easiest to order our CDROMs.
You can use one of the following credit cards, to order our CDROMs via Paypal:
However, if you prefer other modes of payment, please mail to us at