Arupadai veedu - Six Sacred Temples of Lord Muruga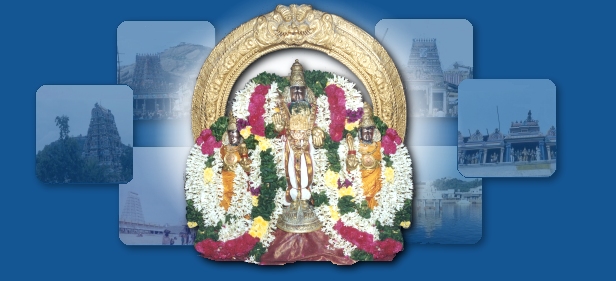 Aru padai veedu or Aarupadai veedu or Arupadaiveedu - all these terms refer to the six sacred temples of Hindu God Lord Karthikeya - also known as Lord Muruga, Shanmuga, Guhan, Skanda, Subramanya and Kumara.
All these temples are located in South India - in the state of Tamil Nadu.Though there are thousands of temples for the Hindu god Lord Muruga - around the globe, these six specific temples enjoy unparalled sanctity and populaity among the devotees of Muruga or Balasubramanya - and deserve a very special mention.
These six temples that constitute the Arupadai veedu group of shrines are :
1.Thiruparamkunram Subramanya Swami Temple
2.Tiruchendur Sendhil Andavar Temple
3.Swamimalai Swaminatha Swami Temple
4.Palani Dandayudhapani Swamy Temple
5.Tiruthani Subramanya Swamy Temple and
6.Palamudhircholai Subramanya Swamy Temple
The origins of these temples go back by more than 2000 years. We find references to these temples in many of the ancient tamil language literatures like Silapathikaram.
These six places are considered to be the battle camps of Lord Muruga (Skandha). The term padai veedu - in Tamil- means Battle camp. Aru padai veedu means six battle camps. The six places are believed to be six different battle camps of Lord Muruga. We find that interesting legends and puranas are associated with each of these temples of Kumara (Lord Muruga).
Ancient tamil work Thirumurugatupadai - sung by tamil saint poet Nakkerar in 1st century AD, hails each of these six places with prominance and importance. The poems also reveal that all of these temples were well established even during the sangam age (1st to 3rd century AD) - which only pushes the origins of these temples to periods before christ (BC).
Arupadai veedu - a multimedia ecstasy


For those who are interested in exploring these temples of Lord Muruga, Cybervalley Systems has come out with a comprehensive multimedia CD-ROM/ VCD titled Arupadai veedu - a multimedia ecstasy.

With exclusive coverage on each temple reverred to as arupadai veedu, the CD-ROM/ VCD is a must buy for all those who wish to explore the temples, legends associated, holy waters associated with the temples, various festivals and other important details which may not be available elsewhere.




more
Legend associated with Thirumurugatruppadai



Legend has it that Nakkerar, a famous tamil poet in the Pandiya empire was imprisoned by a ghost in Thiruparamkundram, a mountanous region near Madurai in tamilnadu. Nakeerar, who was an ardent devotee of Lord Karthikeya, sang the songs in Thirumurugatrupadai - in praise of the Lord - while in prison. As he completed his poetry, the Lord appeared, demolished the Ghost and blessed Nakkerar.
Legend associated with arupadaiveedu temples



Almost all important events in the life of Lord Muruga or arumuga, are supposed to have take place in these six places.
· In Thiruparamkundram, the Lord wedded Deivayani or Devasena, daughter of Indra
· In Thiruchendur, the Lord killed Soorapadhman, a daemon king of asuras
· In Pazhani, the Lord renounced the world, and set himself apart from the family
· In Swamimalai, Lord Kumara became a Guru to his own father, Lord shiva
· In Thiruthani, the Lord wedded Valli, daughter of a forest king
· In Pazhamudircholai, the Lord blessed avvaiyar, another famous tamil poet.
Apart from nakeerar, many other devotees of Lord Muruga - from time to time, in different centuries - visited these temples and sung in praise of the Lord of these temples.
Prominent among them are :
· Arunagiri nathar - a saint poet
· Avvaiyar - a female saint poet
· Kumara Guruparar - a hindu saint
· Vallalar - another hindu saint and
· Muthuswamy Deekshidar - one of the three gurus of carnatic music.
Other famous temples



Though not mentioned in Thirumurugatrupadai, there are many other ancient and prominent places in Tamilnadu - associated with Lord Muruga or Skandha.
These include :
· Marudamalai - where pambatti siddhar lived
· Vayalur - where saint arunagiri nathar was blessed
· Ettukudi
· Enn Kann
· Viralimalai
· Kadirkaamam (Sri lanka)
· Nallur (Sri lanka)
As the tamil population spread throughout the world, many other temples dedicated to Lord Muruga emerged across the globe.Our website provides vital information on Temples of Muruga - not only in India - but also in many other places in the world.
Imbibe the spirit of devotion in your kids!



Many of those who migrated away from India, be it the early settlers in South Africa or the tech-savvy migrants to US - the first generation who have Lord Murugan in their hearts find it difficult to pass on this spiritual shield to their children who grow up in alien lands.
Cybervalley Systems has brought out a CD-ROM titled Arupadaiveedu - A Multimedia Ecstasy that can play on PCs and select VCD players - a multimedia title covering the six Murugan temples of Arupadaiveedu in south India.
This CD exquisitely brings to life the pujas and certain utsavams of Lord Karthikeya - To illustrate a few shots...
- the ther (Temple chariot) utsavam of Thiruparamkundram Murugan;
- the Unjal ( Swing) sevai of Tirutchendur Murugan ;
- the Abishekam of Palamuthircholai Murugan or
- the golden chariot of Palani
- are some such scenes that leave a permanent impression in one's mind.

Peace and tranquility are the possible benefits of viewing the CD contents - be it in a group during small functions or alone- in solitude in the background of darkness. For kids- it will be as much fun as watching the cartoons - if only the parents take time to explain the CD contents to their kids with some interest.
To know more about the CD ROM - Click Here