Palamudircholai - Sri Subramanya Temple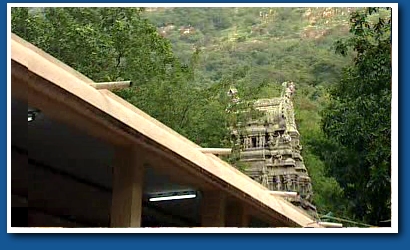 Pazhamudir cholai or Pazhamudir Solai - which was earlier known as Solai malai, is a holy place near Madurai, in Tamilnadu - South India. It houses one of the most sacred temples of Lord Muruga - also known as Arumugan, Karthikeya, Skanda and Kumara - and is the sixth Aarupadai Veedu . Saint poet Nakkerar, in his songs in praise of Lord Senthil Andavar, places Pazhamudircholai in the sixth place amongst the six battle places ( Arupadaiveedu ) that Lord Muruga has fought to win over evil.
The Other five Temples in the Arupadai Veedu sung by Nakkeerar are:
1.Tiruparamkundram Subramanya Swami Temple
5.Thiruchendur Senthil Andavar Temple
2.Swamimalai Swaminatha Swami Temple
3.Palani Dandayudhapani Swamy Temple
4.Tiruthani Subramanya Swamy Temple

A few Murugan devotees do consider that Marudamalai Murugan temple also deserves to be mentioned as one additional Padai Veedu.
Legends/Puranas and Mythology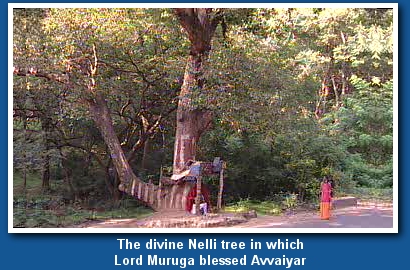 There is a famous legend associated with the temple - it is said that Avvaiyar, a famous tamil poet and a Muruga Bakthai(Muruga Devotee), came here when her knowledge was put to test by Lord Muruga, taking the form of a small boy. It is firmly believed that this episode took place at a tree near the temple and the tree is worshipped even today.
Nakeerar, in his Tamil writings compilation called Thirumurugatruppadai, more than 2000 years ago, and saint Poet Arunagirinaathar, who has composed several verses on Murugan, have both sung in great praise of Lord of Pazhamudircholai.
Arupadai veedu - a multimedia ecstasy


For those who are interested in exploring these temples of Lord Muruga, Cybervalley Systems has come out with a comprehensive multimedia CD-ROM/ VCD titled Arupadai veedu - a multimedia ecstasy.

With exclusive coverage on each temple reverred to as arupadai veedu, the CD-ROM/ VCD is a must buy for all those who wish to explore the temples, legends associated, holy waters associated with the temples, various festivals and other important details which may not be available elsewhere.




more
Location and Temple Precincts


It is a Hill temple, located on the top of Azhagar malai hills, on the South west of Madurai in Tamil Nadu, India. There is an ancient temple of Lord Vishnu at the foot of the hills, popularly known as Azhagar Koil, and is one of the 108 sacred temples dedicated to Lord Vishnu. The Arupadaiveedu - A Multimedia ecstasy a CD ROM / VCD on Muruga by Cybervalley Systems , India - presents a brief overview of this temple.
The Pazhamudir Solai temple is accessible by Road - Regular buses are available from Madurai.
The temple construction that stands today - is of a much recent origin and presents without elaborate facades and walls. Atop the hill, there is another temple called Rakkayi Amman temple - which is dedicated to Goddess Parvathi. A small spring - kinown as Noopura Ganga runs near this temple. The waters of this mountain spring are considered to be sacred and devotees to the Subramanya temple of Pazhamudir solai do not fail to take a bath in this holy spring.
These picturesque scenes from the temple have been videographed vividly in Arupadaiveedu - A Multimedia ecstasy a CD ROM / VCD on Muruga by Cybervalley Systems , India (http://www.cybervalleysystems.com).
Lord Muruga presents himself as Sri Subrahmanya, along with his celestial consorts - Valli and Deivayani (also known as Devasena, the daughter of Indran) in the main sanctum sanctorum. Here, Valli is considered to be ICHCHA SAKTHI (Power of will), Deivayani to be KRIYA SAKTHI (Power of doing) and Lord Muruga himself is considered to be GNANA SAKTHI (Power of Knowledge).
It is believed that the Lord was worshipped in the form of a Vel in ancient times.
The stala vriksham for Pazhamudircholai temple is the Naval Maram (reverred by Avvaiyar).
History of the Temple


There are conflicting opinion among the scholars as to the location of the actual Pazhamudircholai temple - though the one near madurai is now considered to be authentic by many. No elaborate history is available for this temple as the temple itself is of recent origin - though Muruga worship here is several hundered years old.
Temple timings & Festivals


Daily pujas to the deities are performed six times a day (six kalams). Forenoon : Ushat Kalam, Kalasandhi and Uchikala poojas are performed in the and the afternoon poojas commencing from Sayaratchai and Rendam kalam are concluded with Arthajama pooja in the night.
· Pankuni Uttiram festival in March
· Visakam festival in May
· Skanda Shashti festival in October
· Tiru Karthikai festival in Nov/December
Important links



Azhagar Koil, Madurai and Thiruparamkundram are the nearby tourist locations.
Links to Tour & Travel Agencies
ganeshtravels
chennaibest.com
1uptravel.com
indiantravelportal
Places to Stay
Links to sites with details of Madurai Hotels and Lodges
Pandiyan Hotels
Madurai Hotels
Madurai Lodging
Madura Park Inn
Links to other Murugan Temples in Arupadai Veedu:
Tiruparamkundram
Palani
Swamimalai
Tiruthani
Thiruchendur
Imbibe the spirit of devotion in your kids!



Many of those who migrated away from India, be it the early settlers in South Africa or the tech-savvy migrants to US - the first generation who have Lord Murugan in their hearts find it difficult to pass on this spiritual shield to their children who grow up in alien lands.
Cybervalley Systems has brought out a CD-ROM titled Arupadaiveedu - A Multimedia Ecstasy that can play on PCs and select VCD players - a multimedia title covering the six Murugan temples of Arupadaiveedu in south India.
This CD exquisitely brings to life the pujas and certain utsavams of Lord Karthikeya - To illustrate a few shots...
- the ther (Temple chariot) utsavam of Thiruparamkundram Murugan;
- the Unjal ( Swing) sevai of Tirutchendur Murugan ;
- the Abishekam of Palamuthircholai Murugan or
- the golden chariot of Palani
- are some such scenes that leave a permanent impression in one's mind.

Peace and tranquility are the possible benefits of viewing the CD contents - be it in a group during small functions or alone- in solitude in the background of darkness. For kids- it will be as much fun as watching the cartoons - if only the parents take time to explain the CD contents to their kids with some interest.
To know more about the CD ROM - Click Here